Today is Friday the thirteenth, the day that is known as unlucky day. Research shows that no less than one in five people are extra careful on this day. But in an environment with moving objects, safety is of extra importance. That is why we would like to give you some useful tips to create a safe workplace every day.
Loading bay: causes of industrial accidents
The loading bay is seen as one of the most dangerous places in the workplace. This is not surprising, as around 40,000 people in Europe are seriously injured every week in a workplace accident. The most common industrial accidents are:
Contact with a moving object
Collision
Falling from a height
Slipping, tripping or falling
Contact with a moving part of a machine
Not all of these accidents result in serious injuries. But it is good to realise that sometimes a band-aid is not the answer.
This is how you avoid accidents in the workplace!
Of course, we want to prevent industrial accidents as much as possible. To give you more peace of mind, we have listed the most important points here:
1. Wear protective clothing; when working, always wear the correct protection for hands, ears, eyes and airways.
2. Keep the work floor tidy: an accident is often just around the corner. Make sure the work floor is always tidy so that no one can fall.
3. Use the machines in accordance with the guidelines; ensure that everyone is familiar with the machine guidelines and safety protocols. They are there for a reason! They help to prevent unnecessary mistakes.
4. Report unsafe situations immediately; if you notice an unsafe situation, take a photo and report it to your manager. In this way, unsafe situations can be changed.
5. Speak to each other about unsafe situations; if you notice that a colleague is not following the prescribed safety guidelines, speak to him or her immediately.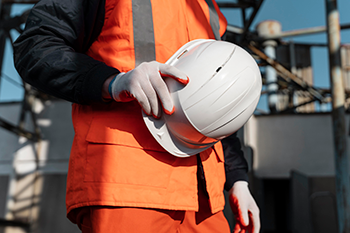 Innovative loading bay solutions: increasing safety
Loading Systems considers a safe and healthy workplace of paramount importance. Therefore, we have a wide range of solutions to contribute to a safe loading bay.
Optimal safety around the loading bay? Choose vehicle restraint systems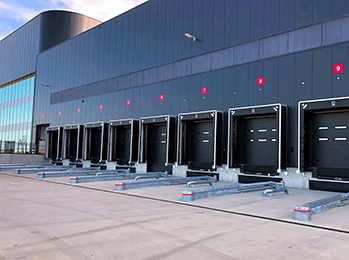 The premature departure or creep of vehicles can cause serious accidents. That is why we have developed the vehicle restraint system especially for these types of situations. The vehicle restraint system ensures that trucks can no longer drive off due to the automatic wheel lock. This ensures that loading and unloading can take place safely at all times. Would you like to know more about our vehicle restraint systems? Read more here.
Looking for a more simple solution? Then wheel chocks are a good alternative! The wheel chocks are easy to use and increase the safety around the loading bay. The wheel chocks are available in various designs and can therefore be used for any vehicle.
Accessories: making the building safer from the inside and out
Our accessories contribute to making your loading bay safer. In addition, the accessories also increase the user friendliness and durability of your building. For example, dock bumpers can be installed to prevent unwanted damage to the vehicle and the building.
Want to know more about our accessories? Then check our full product range for increasing safety in and around your premises
Safe working environment with a dock leveller
A dock leveller contributes to the safety around your dock. The dock leveller is standard equipped with a number of safety functions and the following can be added as an option:
Anti slip layer
Emergency stop switch with reset protection (panic stop)
Dock leveller / door safety device
All dock levellers in our range are CE marked and therefore comply with all safety aspects of the European Directive EN 1398:2009.
In need of service? Loading Systems is your local service partner!
Did something go wrong on Friday the thirteenth? No problem at all! Our technicians are at your service day and night. The advantages of Loading Systems:
One single supplier for all your industrial doors and dock equipment
Own experienced service technicians
Brand independent maintenance